Elegance of the Nile - Royal Suite
Booking Dates
04/02/2023 through 03/20/2024
Travel Dates
04/02/2023 through 04/02/2024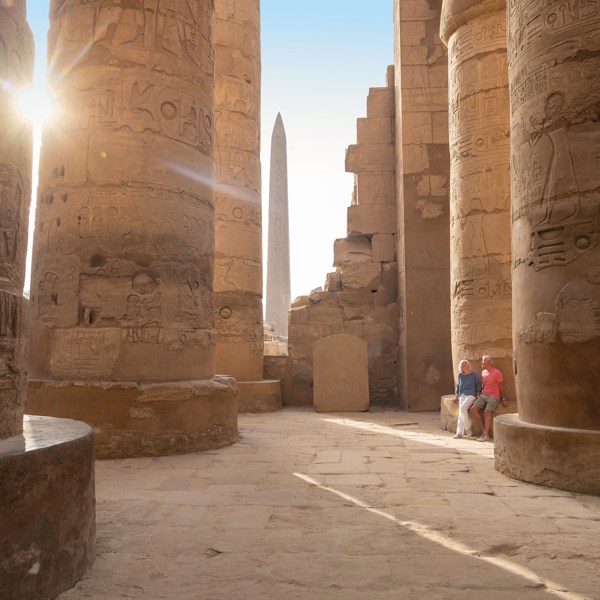 Elegance Of The Nile – Royal Suite
See the best of Egypt on this 11-day guided tour. Enjoy an afternoon in Cairo before joining an Egyptologist for an exclusive visit to the Pyramids of Giza, where you'll walk inside one of its caverns and see the Sphinx. At the Egyptian Museum, gaze upon priceless treasures taken from the tomb of the country's most famous pharaoh, Tutankhamun. See the Temple of Luxor during a VIP, after-hours visit, exploring the UNESCO World Heritage Site free from other tour groups. See the Valley of the Kings, where Tutankhamun is buried. Choose to sail the Nile on a felucca, a traditional wooden boat, or visit Aswan Market for a shopping spree. Sip on tea at the Cataract Hotel, where Winston Churchill once dined. And visit the Esna Temple, a striking waterfront structure.


Dining Summary
10 Breakfast (B)
7 Lunch (L)
7 Dinner (D)
Choice Highlights
Choose between two carefully selected activities
Kitchener's Island: Cruise on the Nile in an elegant wooden felucca as the winds ease you around the botanical vistas of Kitchener's Island. Admire the lush greenery of the Island of Plants as your drift through the afternoon aboard your traditional vessel.
Aswan: Visit the lively Aswan Market and shop for local products. Traders sell a wide variety of Egyptian and African goods such as dried hibiscus flowers, Ancient Egyptian souvenirs, spices and carpets.
Choose between two carefully selected activities
Kom Ombo: Learn about the roles of powerful women in Egypt's history from an Egyptologist, including famous leaders such as Queen Cleopatra, Queen Hatshpsut and Nefertiti.
Kom Ombo: Relax on the sundeck for a cocktail demonstration and sample a delicious drink made from local herbs and ingredients, some of which have been used since the time of the pharaohs such as Sugar Cane Juice and Roselle.
Additional Included Highlights
: You will be escorted by one of our fine Travel Concierges and certified Egyptologist, handpicked to serve as your expert guide, consummate organiser, and friend overseas.
: At every hotel, you'll be treated to seamless baggage handling, with prompt delivery inside your room.
: Hotel and restaurant tips are included – you'll never have to worry about how much to give, nor search for foreign currency. We also include all taxes and porterage charges at hotels. See Notes in the pricing panel for exemptions.
: Complimentary, private airport transfers are included on start and end dates, when flights are included within the itinerary and when additional accommodation has been booked through Luxury Gold. Guests will be transferred with fellow Luxury Gold Travellers that arrive on the same flight. Complimentary port transfers are included when cruise travel is included within the itinerary. Transfers to train stations or alternate hotels, in the same start or end city of the itinerary, may be requested but are not guaranteed.
Exceptional Dining
Luxor: Visit a family home and witness the making authentic Egyptian sun bread.
: Don your finest traditional Nile Valley galabeya for a night of dancing and games on the river. Enjoy a relaxed Egyptian dinner and take the opportunity to unwind and spend an informal evening with your Travel Concierge and cruise companions.
Aswan: Enjoy afternoon tea on the shaded terrace of the Old Cataract Hotel as you gaze over the waters of the Nile River. Soak up the afternoon as Winston Churchill, Princess Diana, and Agatha Christie have done before you.
: Enjoy a Restaurant Dinner accompanied by a Nubian folklore show.
Journey Highlights
Giza: Join your Egyptologist to explore the impressive city of Giza, where you meet the enigmatic Sphinx and proceed deep inside one of the Pyramids. Admire the hieroglyphs etched on the walls and the covert chambers where great pharaohs met their gods.
Saqqara Necropolis: Accompany your Egyptologist to see the Step Pyramid of Zoser, the first pyramid that the Egyptians built, more than 4,700 years ago. It was designed by the architect, Imhotep, to honour his much-respected King, whom it is named after.
El Omraniya: Watch in wonder as the Pyramids of Giza are brought to life against the night sky by a mesmerising presentation of sound and light. Hear the ancient tales of Egypt as these spectacular monuments are illuminated by giant scale projections.
Karnak: Stand amid a vast forest of columns in the largest temple complex known to man. The most important place of worship in Egypt for nearly 800 years, Karnak is an extraordinary sight, presided over by the archaeologically magnificent Temple of Amun.
Dendera: Visit the magnificent Temple of Hathor, one of the best preserved temples in all Egypt. Explore the complex to see rare images of Cleopatra VII and Caesarian and witness the Dendera Light, which some historians believe depicts an ancient electric lightbulb.
West Bank: Pause to view the spectacular Colossi of Memnon. These enormous twin statues of the Pharaoh Amenhotep III sit 60 feet above the plain and dominate the landscape with their 720-tonne masses. Gaze upon the breathtaking scene they create.
Valley of the Kings: Venture to the Necropolis with your Egyptologist and discover the resting place of many Pharaohs. See the royal tombs and visit the Temple of Hatshepsut with its pillared porticoes and vibrant reliefs, making it one of the world's most striking architectural masterpieces.
Valley of the Kings: Follow in the footsteps of the Pharaohs as you walk into the Valley of the Kings and explore the magnificent burial chambers of Egypt's ancient rulers.
Kom Ombo: Arrive at Kom Ombo on the banks of the Nile, a unique double temple that is dedicated to two gods. See the mummified crocodiles that wer…

| Day | Description | View All |
| --- | --- | --- |
| Day 1 | Cairo at Leisure. | Details |
| Day 2 | Giza Sightseeing | Details |
| Day 3 | Join your Cruise in Luxor | Details |
| Day 4 | The Temple of Hathor and Luxor Cruise | Details |
| Day 5 | The West Bank and Valley of the Kings | Details |
| Day 6 | A Felucca Around Kitchener's Island | Details |
| Day 7 | Aswan and High Dam | Details |
| Day 8 | Relax upon the Nile Relaxed Start | Details |
| Day 9 | From Esna to Luxor Relaxed Start | Details |
| Day 10 | Luxor to Cairo | Details |
| Day 11 | Depart Cairo. | Details |